Help
Histology Guide allows the viewing of high-quality images obtained by light or electron microscopy (EM). Users can interactively explore huge images in real-time. The browser-based interface recreates the experience of using a microscope. To aid in the interpretation of images, the key features are described for each image.
Virtual Microscope
Click the following images for instructions on how to use the viewer with virtual microscope slides or EM photographs (i.e., micrographs).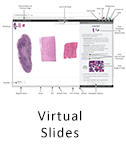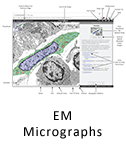 Bookmarks
Histology Guide supports saving any view as a 'bookmark' in your browser. This allows any view to be shared with others at a later time.
Settings
The settings button allows customization of the virtual microscope and the EM micrograph viewers.
Choose a theme - dark and light color schemes for the website (default is dark)
Viewer options - show/hide various features of the viewer

Navigator - thumbnail of whole slide or micrograph
Toolbar - show/hide the toolbar or just the magnifications, size of view or pointer
Scalebar - show/hide and change its color
List of views - rapidly scroll through the saved views
Previous/next view buttons - arrows appear when the mouse is over the right/edges and allow moving through saved views

Description - display descriptions as multiple/single page(s)
Font size - decrease/increase the font size
Questions, comments or suggestions should be sent to tcbrelje@gmail.com